Hi, I'm Hari
I live in New York City and am happily working at Jane Street Capital. As an undergraduate, I studied CS and ECE at Carnegie Mellon University. Here are some projects I've worked on.
Bored?
I share some of my thoughts on my blog. Feel free to check them out! If that feels like too much work, how's a game of Javanoid with cheat codes instead?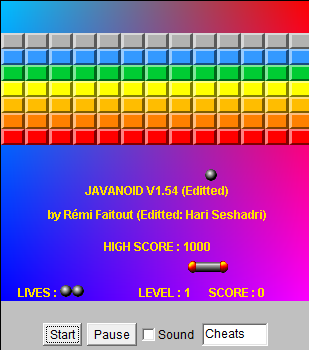 | Cheat Code | Action |
| --- | --- |
| Gold | Gold ball |
| Fired Up | Shooting |
| Add Life | +1 |
| Jump <#> | Goes to level |
Miscellaneous
Although my education was in computer science, development isn't my primary role at work. Still, outside of work, I love to code. When I step away from my computer, I like to play racquetball, struggle at poker, and eat food from Taco Bell.
My full first name is actually "Srihari," my favorite movie is Lord of War with Nicolas Cage, I play chess but am a terrible bughouse partner, and I try to go to the Broome Street Temple once a week.
Well that's about all the random facts I can think of for now, but if you'd like to get in touch shoot me an email.